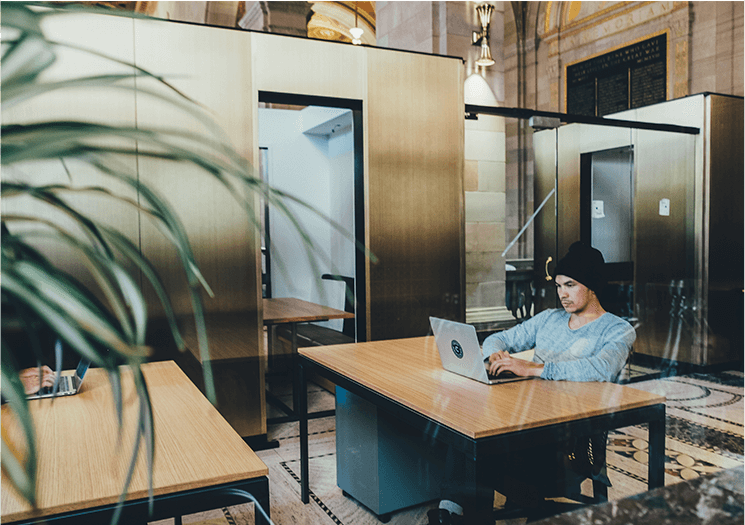 It's simple, right? An English proficiency test measures an individual's English level. In fact, there are quite a few variables, not to mention that different tests reveal different things.
At iTEP, we feel a comprehensive English language assessment should measure the test-taker's command of the language both formally and informally, through verbal and written communication that would occur both inside and outside of the classroom. Of course, not every situation calls for a comprehensive assessment, and certainly not every exam on the market offers one.
Quick English Test

There are many online tools that can give a rough idea of a person's English level. Some take only a few minutes. While these tests can be fun for an informal comparison between friends, they don't have much of a practical application in companies or institutions of higher learning.
However, the desire to quickly get a basic snapshot of a person's English ability is fairly widespread. Our answer to this need is iTEP Conversation, an exam that assesses only the test-taker's speaking and listening abilities in 30 minutes and is designed to be low-key and friendly in tone. It can be taken at home or administered at workplace or campus.
As with all iTEP exams, the score is highly reliable and tracks linguistic sub-skills within each section. iTEP Conversation is designed to give an extremely accurate measurement of what it's like to have a casual conversation with the test-taker in English.
Seeing the "whole picture"

It's no coincidence that the flagship iTEP exams, iTEP Academic, iTEP SLATE, and iTEP Business all assess speaking, writing, listening, reading and grammar. These represent the full range of English skills and are evaluated by every major test on the market.
All five sections are crucial to getting a full understanding of a test-taker's English level. In some countries, writing and reading in English are emphasized in the school system, but speaking isn't taught at all. Conversely, individuals who have grown up around English speakers but never formally studied the language may have excellent listening and speaking skills, but a poor grasp of formal grammar.
Breakdown of the Common European Framework of Reference for Languages
The best summary of what each level of English speaker might look like in an interaction in English is the CEFR standard. iTEP scores align with these levels to help test-takers and administrators understand what the iTEP levels mean.
A1 level (Beginner)

At this level of proficiency, one can understand and use fundamental phrases and familiar daily expressions in order to meet concrete daily needs. For example, people a this level can introduce themselves and answer basic personal questions such as about where they live and what things they have. They can interact easily as long as the other party talks clearly and slowly and is ready to help.

A2 level (Elementary English)

Individuals at this level can understand sentences and common expressions. They can communicate while performing routine and straightforward tasks requiring a direct exchange of information and can also describe their background and immediate environment in simple terms.

B1 level (Intermediate English)

English learners at this level can comprehend critical points of clear standard communication on popular matters often encountered in school, leisure, work, etc. They can discuss sports or current events, for example. Individuals at this level can also produce some simple connected text on matters of personal interest and can also begin to describe experiences, hopes, ambitions and briefly use reasons to support their plans and opinions.

B2 level (Upper Intermediate)

This level of proficiency indicates the ability to understand the critical points of complex text on both concrete and abstract topics. It also reflects the ability to interact with a level of fluency and spontaneity that affords regular interaction with native English speakers without either party straining. Moreover, English learners at this level can produce cogent and specified text on a variety of subjects.

C1 level (Advanced English User)

English learners at this level can comprehend an array of demanding, longer texts as well as recognize implicit meaning while expressing themselves spontaneously and fluently. They can also use language effectively and flexibly for professional, academic, and social purposes. This is a level at which learners can produce clear, comprehensive, well-structured text on complex subjects, displaying a controlled utilization of cohesive devices, transitional connectors, and patterns.

C2 level (Proficient English User)

At this level, English learners can quite easily comprehend everything read or heard. They can also summarize and synthesize information from multiple written and spoken sources, reconstructing accounts and arguments into a coherent presentation. They display total comfort with written and spoken language and express themselves precisely, spontaneously, and cogently even while delivering nuanced information or navigating complicated situations.

 
The Nuance of Language Learning

As you can see, an individual's English level is a complex and subtle thing. An effective English language assessment is able to differentiate between English speakers of slightly different ability. In addition, an English assessment tool should provide the test-taker with detailed feedback. Knowing one's strengths and weaknesses can be quite useful in the language acquisition process.
Click here
 to know more about English Language Proficiency Test
The International Test of English Proficiency (iTEP) was introduced in 2008 to modernize English language assessment with on-demand scheduling, 24 hour grading, and accurate test data. iTEP provides a convenient and cost-effective testing option delivered in a highly secure environment.

iTEP offers a variety of assessment tools for university and secondary school admissions and ESL placement, hiring and employee assessment (including tests for specific industries), and iTEP Conversation, which assesses conversation skills in 30 minutes. All iTEP exams are graded by certified and trained native English speakers.

More than 800 colleges, universities, middle/high schools, and boarding schools in the USA and Canada accept iTEP results for admissions. Applicants can take iTEP at more than 500 test centers in 61 countries. iTEP International is headquartered in Los Angeles, California.