Summit Christian Academy in Kansas City, Missouri, USA decided a new English language proficiency exam was needed when they realized how difficult it was to understand international student examinees' scores and translate the scores into specific language strengths and weaknesses. Results from the Academy's test being used at the time only gave a total score with a CEFR (Common European Frame of Reference for languages) score. It lacked the comprehensive and in-depth assessment of student skills Summit Christian Academy required for their international student application process and personalized English language curriculum. The academy desired a test with more detailed results suited for multiple purposes.
The new test also had to be affordable for both the school and students, who incurred multiple additional costs in their educational pursuit. Upon learning about iTEP' s detailed results, versatility, and affordability at a conference, International Program Director Kathy Tharp chose to implement iTEP SLATE (Secondary Level Assessment Test of English) in its Plus form at Summit Christian Academy. Now, Summit Christian Academy utilizes the iTEP SLATE-Plus exam for assessing international student applicants, tracking current student progress, developing personalized course instruction, and providing documentation for student accommodations during ACT testing.
Summit Christian Academy ranks number two in the top private schools for the greater Kansas City area. In its 11-year history, the academy's international program has educated students from around the world including Switzerland, Uganda, South Korea, China, France, Germany, Venezuela, and Peru. International Program Director, Kathy Tharp, manages the academy's PK-12 general international education initiatives and leads the high school's international student program. The English instruction is highly personalized and adapted according to each student's strengths and weaknesses. The ability to track students' progress is essential for adjusting individual language objectives. Even before arriving at Summit Christian Academy, accepted international students talk with Director Tharp about their English goals in preparation for their educational experience. With their previous English language test, it was challenging for the academy to learn about a student's abilities. The test results were general and gave two main scores: a total score and a CEFR score. Director Tharp noted when evaluating the examinees test scores, the
results needed to be "deciphered" to understand an examinee's range of skills and areas of improvement. With the need to help students plan, track, and develop their English proficiency, the lack of knowledge made the process more arduous. "Some people want to know if they [the students] are a CEFR B1? You know, just the number. And that is not what we want. We want to know where that number came from so that we can be prepared." Director Tharp realized the academy required a new, reasonably priced test with a detailed student assessment for multipurpose use.
"We use the [iTEP] score report to personalize language objectives for each student".
Kathy Tharp, International Program Director Summit Christian Academy
Each year Summit Christian Academy accepts high school students from around the world into its international student program. With the English test they had been using as part of their application process, the test results lacked sufficient assessment details about a student's range of language skills. Director Tharp required more in-depth test results for a cohesive understanding of incoming and current student abilities. 
The iTEP SLATE-Plus exam proved to be the ideal solution for Summit Christian Academy. iTEP results were comprehensive using a score report provided in an easy-to-understand format. The score report showed an overall proficiency score, individual proficiency scores for the Grammar, Listening, Reading, Writing, and Speaking sections, as well as scores for linguistic sub-skills.
The iTEP score report also showed approximate equivalencies to other language assessment tools such as PET and TOEFL Junior. Using the score report made it easy to identify an examinee's strengths and weaknesses. Director Tharp noted, "The detail of it really helped for what we do in the classroom with those objectives and helping movement in our international students to meet their goals of proficiency in English."
For more information about testing at the middle and high school levels contact iTEP at info@iTEPonline.com.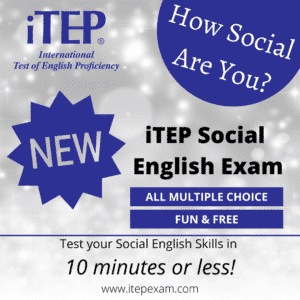 The Social English Exam measures your ability to understand and respond using English in different social situations with native English speakers.
Read More »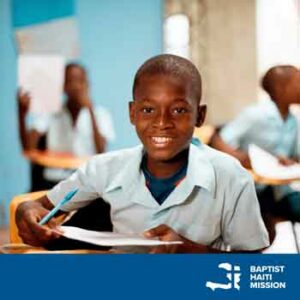 iTEP's admissions testing helps Liberty University and the Baptist Haiti Mission (BHM) train and educate the youth of Haiti.
Read More »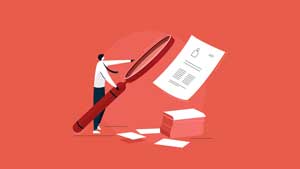 iTEP is looking to hire an IT Coordinator. This position is responsible for providing internal support to iTEP's online testing operations and admin system.
Read More »