The Evolution of English Proficiency Testing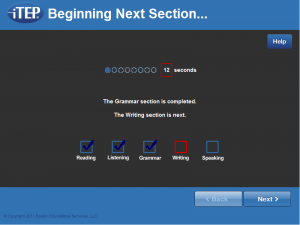 Three years ago, the Chronicle of Higher Education published  this article about English proficiency testing. It's still very relevant with a great deal of history of the field, stats, and profiles of different approaches for both the business and science of testing.
Yet, a lot has changed in three years. The number of players has multiplied, and the issues, both for institutions and test takers, have shifted. Here's a brief breakdown of how some of the angles addressed in the Chronicle article have progressed.
The story begins with an anecdote about a Russian student who struggled with English once she arrived in the US and was later found to have used a substitute to obtain her TOEFL score. This is actually something that can occur even with students who obtained their score honestly. One of our clients recently shared the story of a student who, despite a satisfactory score on an ETS exam, had to be removed from a chemistry course for lack of English proficiency. In order to avoid situations like these, iTEP gives administrators the ability to read writing samples and listen to speaking samples online.
Despite economic hard times around the world, the number of foreign students studying in the US has  steadily risen since 2010. So when Eileen Tyson, director of client relations at ETS, says, "We try to keep the test fee low in areas where students don't have the ability to pay," it may come as a surprise that the minimum price for TOEFL cited thereafter is $150 (it has since risen to $160). By offering iTEP at $99 regardless of location, iTEP strives to further widen the reach of English proficiency testing–and the access to education that comes with it.
Over the past decade, but in the last few years especially, we have seen a move toward on-demand availability and programming in many fields. Students these days watch TV on their own schedule, shop online when stores are closed, and thanks to iTEP, can take schedule an English test on three days' notice. This means fewer students having to delay applications to colleges or traveling to sit for a scheduled test (like TOEFL).
With the increasing speed of technology, test providers have to work hard to stay ahead of cheaters. Some US schools are no longer accepting TOEFL scores from the US due to issues with time-transfer cheating, in which the day's answers are obtained in the Eastern hemisphere's earlier time zones, and sent ahead to the West. iTEP live streams test content from a bank of questions to ensure each individual test is different and not vulnerable to this security issue.
As depicted in the Chronicle story, institutions each decide individually which tests to approve. There is no governing body to verify them. Indeed this is often a slow process. However, an increasing number of schools are now using newer, and in some cases multiple tests. iTEP is now accepted by more than 400 institutions. iTEP is also widely used by businesses, governments, and secondary schools.