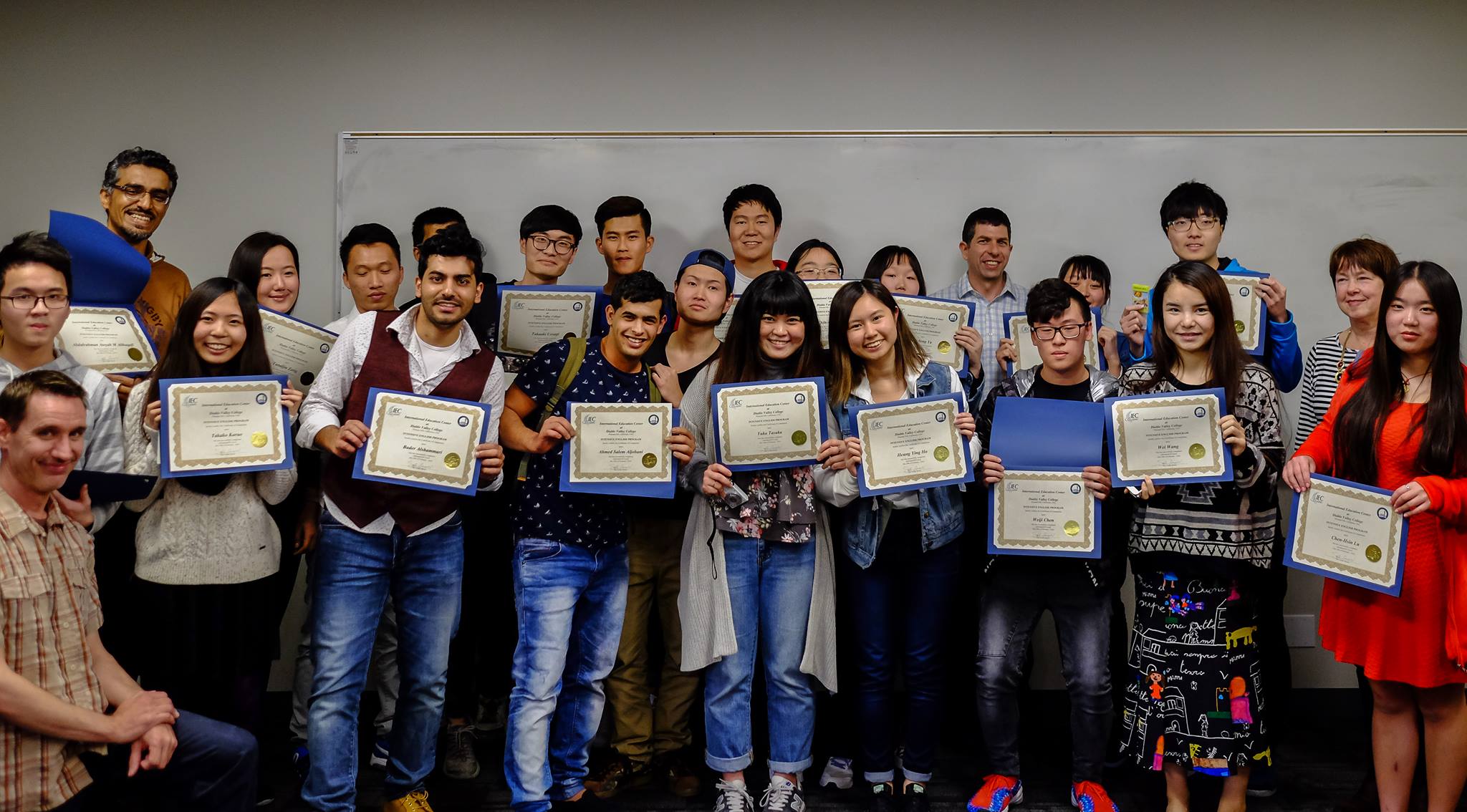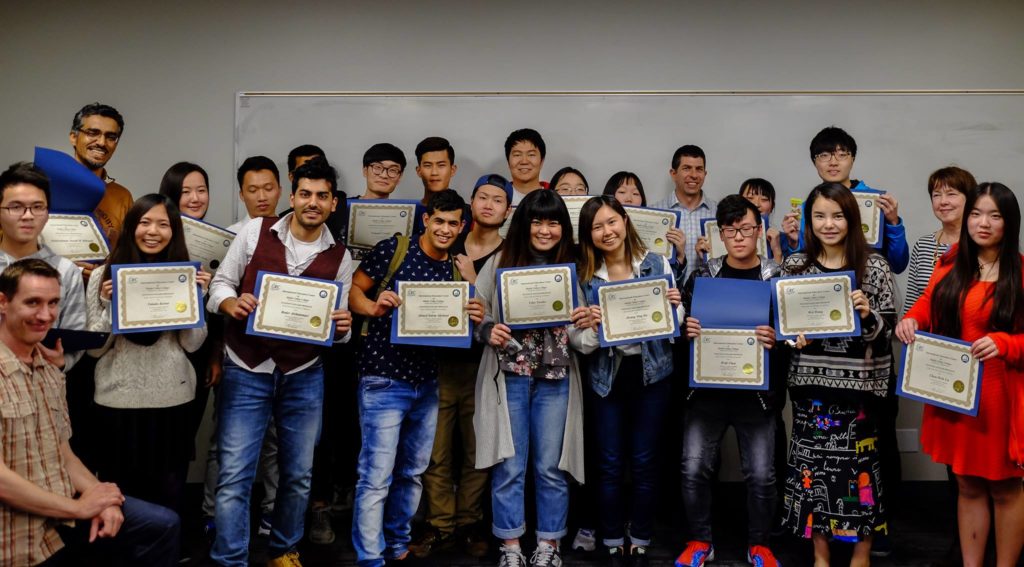 From left to right, Michael Salenko (vice President, iTEP Mexico), Maria del Carmen Salvatori Bronca (Director, DGAIR/CeNNI), Carlos Aceves (Northern Director, iTEP Mexico)
There is a great deal of variation among intensive English programs (IEPs). They come in different sizes, with different focuses, and goals for the students. The ways that they use—or can use—an English test for IEP settings are just as varied.
For example, Diablo Valley College (DVC)'s International Education Center EdUSA Academy is one of 15 Education USA Academies that offers intensive English programs lasting about a month for high school students visiting from abroad. It's a specific niche, and Director Sally Conover says DVC had a particular need "to give the students some concrete, standardized assessment of their English level."
"We didn't want to do a pre and post testing in a short 4-week program," she explains, "but we did want to give them a valid test score they could take with them. This score will be useful for them in the future in a lot of different ways. It provides concrete evidence of language level they can use in their home country and indicates their readiness for undergraduate studies in English."
DVC decided to try a pilot project, a sponsored trial of iTEP tests designed for IEPs. iTEP International works with administrators to set up the pilot project and make sure it provides an accurate read on how good of a fit iTEP may or may not be for the IEP. It was a no-cost way for DVC to find out if iTEP suited the need their program had.
It turned out the students enjoyed a comprehensive assessment of their English ability at the conclusion of the program. "For a few students," Sally says, "it was a pleasant surprise that their English was as good as it was." Administrators also found iTEP to be an ideal English test for IEP use, they reported it was helpful to gain familiarity with iTEP, understand how the test is scored, and to see all the data that it supplies. "We always have a number of students who take iTEP for admission to college," Sally explains, "and now teachers have a much better understanding of the test."
Sally says she was interested to try iTEP because the idea of a comprehensive, accurate test that lasts only 90 minutes was appealing, as was the 24-hour scoring turnaround. "We get the results quickly and give them to students right away," she says. "All the elements work well for the students and staff."
Ultimately, the pilot project was deemed a success and DVC will continue using iTEP for this purpose going forward. Sally explains that using iTEP in this way helped students and parents see more value in the program. "Yes, the students get a certificate and sometimes letter of recommendation from their teacher," she says, "but adding this official test score is a 'hard marker' that students feel proud of and can show their parents, their teachers back home, and perhaps employers in the future."
Other Ways IEPs Use English Assessment

DVC provides one example of how an iTEP pilot project can give insight into the power of the right English test for IEP challenges. What needs do English assessment tools fill for other IEPs?
Some IEPs find it helpful to test students upon arrival and completion of the program. That way, they are able to demonstrate with a great level of detail what a student learned in the program. Students like to see how their different language skills progressed during their study as well. The iTEP score report provides an overall score, scores for each of the test sections (grammar, reading, listening, writing, and speaking), as well as sub-skills within each section. Students can see where they have gotten better, and where they may still need to improve.
IEPs also use iTEP for placement, particularly the iTEP Academic-Core exam because it lasts only 60 minutes and is scored instantly. Even when English test results are submitted to the IEP before the students arrive, using iTEP to evaluate students upon arrival can be effective for a few reasons. Varying amounts of time may have passed between when the students took English tests in their home countries and when they arrive. During that time, their English skills may have strengthened or weakened. Placing students at the appropriate level is crucial for their success, and an English test that enables an IEP to evaluate all students upon arrival goes a long way toward this goal. It's also an additional safeguard against fraud.
Finally, IEPs can use English assessment tools to evaluate themselves. By comparing different sections of the same level, for instance, administrators can see if instructors are achieving uniform outcomes.
The exciting thing about an iTEP pilot project is that it allows programs to experiment. We love it when we get to work with IEPs on an idea or a challenge we haven't encountered before (as we did with DVC). English tests have been around a long time, but all that a flexible and user-friendly test like iTEP can do for IEPs is only beginning to be explored.
The International Test of English Proficiency (iTEP) was introduced in 2008 to modernize English language assessment with on-demand scheduling, 24 hour grading, and accurate test data. iTEP provides a convenient and cost-effective testing option delivered in a highly secure environment.

iTEP offers a variety of assessment tools for university and secondary school admissions and ESL placement, hiring and employee assessment (including tests for specific industries), and iTEP Conversation, which assesses conversation skills in 30 minutes. All iTEP exams are graded by certified and trained native English speakers.

More than 800 colleges, universities, middle/high schools, and boarding schools in the USA and Canada accept iTEP results for admissions. Applicants can take iTEP at more than 500 test centers in 61 countries. iTEP International is headquartered in Los Angeles, California.