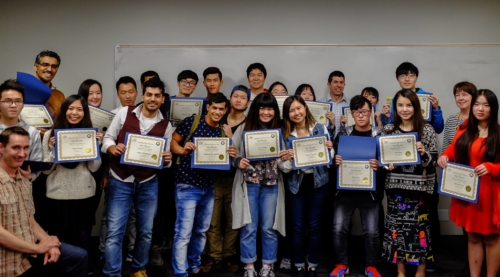 Diablo Valley College shares their experience in adapting iTEP for the IEP world.
Last week's American International Recruitment Counsel (AIRC) Workshop at CSU Long Beach drew about 40 directors and managers of international programs and IEPs (Intensive English Programs) from around the country for a productive day of sharing recruitment strategies for international students. With our headquarters a short drive away, iTEP staff had the chance to connect and reconnect with many talented people.
One of the themes of the day was branding awareness and how institutions' budgets for international recruitment typically do not allow for any major marketing campaign. This forces enrollment managers to find creative ways to familiarize potential students with their schools. With free promotion at 180+ test centers around the world and on the iTEP website, iTEP partner schools are able to elevate their brands without placing any burden on their budget.
"Some administrators have a hard time believing just how simple and beneficial it really is to accept iTEP results for admissions," says iTEP Academic Director, Lee Rabideau. "It was helpful having some great partner schools in attendance, such as SUNY Old Westbury, CSU Fresno, and Cypress College, to drive this point home."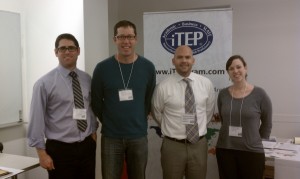 Intensive English Programs (IEPs) from across the nation converged on San Francisco last week to take part in the AAIEP Professional Development Workshop. As an official exhibitor, iTEP was well-received by many IEPs that were looking for the ideal English proficiency test for their placement, progress, and exit testing needs.
iTEP's convenient on-demand scheduling, administrative data access, and low prices, appealed to IEPs that were looking for a streamlined solution for all their English testing. The flexibility to use shorter and longer versions of the test (Core and Plus) appealed to the IEPs as well.
Many also expressed interest in the iTEP "Pre-Arrival Qualification Exam." This test is taken by incoming students at home for placement purposes. Brenda Robati of The Language Company recently gave a fantastic explanation of this exam on the AAIEP listserv:
I would like to interject that it is possible to have a customized and inexpensive pre-arrival proficiency exam designed by iTEP (Boston Educational Services) that students could take online in the comfort of their own home. You could require it as a part of your application process. The results will give you an idea of each student's ability and would also give the student an idea of how long he/she might expect to need for English study. It was also give you an indication if you should recommend to the student that he/she seek another program that offers lower-level ESL courses before applying to your institution. We had such a test designed for us, and tested it through some of our major agents. It provided very useful information; however, because we do offer very beginning level courses, the additional cost, although quite minor and no where in the range of IELTS or TOEFL, to administer the test to incoming students was not welcomed by agents.  I realize that if the students are taking it unsupervised, some students may cheat or have another person take the exam for them.  Emphasizing upfront that its intended purpose is to help the student in planning the time needed for English study and that cheating on the exam will only hurt the student by providing false information about the student's ability to succeed in your program, you may have some success in deterring the cheating.  More importantly, you have provided an inexpensive, reliable means for preventing students from arriving at your center and not being able to study there due to their level of English ability. And, even better, you will have access to the results online via BES's Admin System.
Couldn't have said it better ourselves! Thank you, Brenda! And thanks to all the esteemed IEPs and AAIEP members who visited our booth and showed their support for iTEP. We greatly enjoyed seeing you in San Francisco.
Image: Posing with our friends from Bridge English in front of the iTEP booth.