The past six months have ushered in completely new and unexpected ways of doing things. We have repainted and reframed the pictures of home, work and school – seeing most things now through a 13-inch computer screen.
When it became evident that the pandemic would cease in-person English proficiency testing, iTEP quickly and successfully transitioned our exams to meet the new needs of our partners and test takers, offering everything in a safe and secure virtual format. We innovated and recreated the process to ensure efficient, accurate, and reliable testing was available on-demand; score reports were processed quickly, and that during a time of little normalcy, our partners could rely on iTEP.
The Redesign Process
While the process of revisioning the look of our exams didn't start with the COVID-19 outbreak, it did bring a renewed awareness to the importance of how the iTEP exams appear visually. The academic content in our English-language proficiency examination products is constantly updated to ensure we are measuring English language skills in the most pragmatic and reliable way possible. And now we're pleased to bring that same commitment for the quality of our tests' content to the visual appeal.
The "New Look, New Feel" of iTEP exams has been two years in the making and is the first makeover to our physical products since iTEP's inception over a decade ago. While creating and adding new questions is a continual process for iTEP, the "New Look, New Feel" is focused on enhancing the test-taker's experience with a more inviting and user-friendly interface.
"Our goal was to create a clean, modern design that incorporated new features seamlessly and highlighted the tools in each exam that would assist students in managing their pace while securely testing their language proficiency," said Ali Ossayran, chief designer of the New Look, New Feel.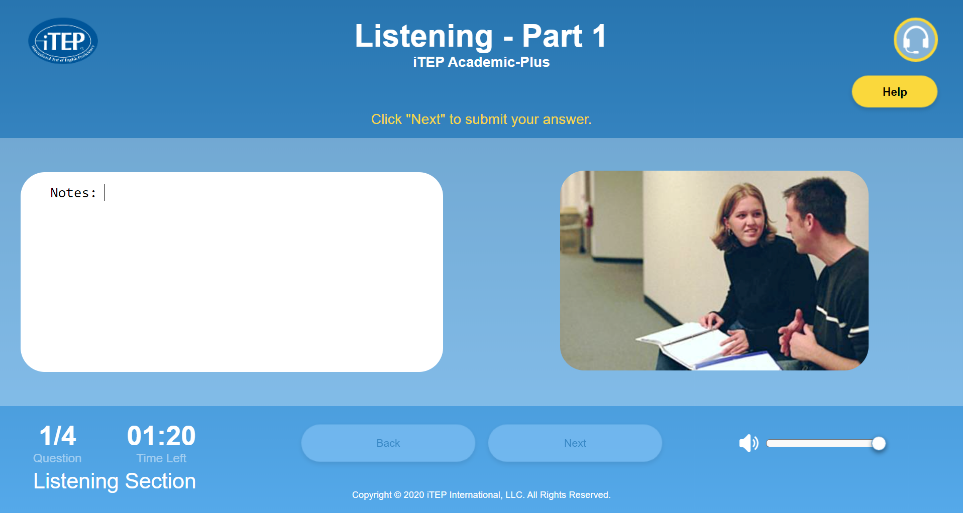 One key new feature iTEP is rolling out as part of the "New Look, New Feel" is the ability for digital note taking. Up until now, students testing at home have not had a secure option for note taking during the test as has been available at testing sites. However, the newly designed digital tests now include an on-screen notes section where test takers can type their own notes on the screen during listening sections of the exam and have those notes available on screen during the questions.

"Note taking is part of testing for English proficiency, but there simply wasn't a way for even a proctor to truly monitor the process through a computer screen," said Rich Collier, iTEP Technical Director. "With a digital note taking option, we've solved that issue."

"COVID-19 has changed the way we administer our tests, support our partners and manage our programs, but we continue to innovate and find solutions so we can make the English language proficiency examination process readily available, secure and reliable." said Jim Brosam II., iTEP President.

Also featured in the new design is a revamped clock and progress bar that helps test takers pace themselves by prominently displaying the amount of time left and current question count in the test. Other visual elements incorporated are subtle design elements borrowed from widely used electronics like a scrolling bar to indicate when a text box has additional text.
Besides making the test more aesthetically appealing, the visual design of the test is also an important communication tool for test takers whose first language is not English.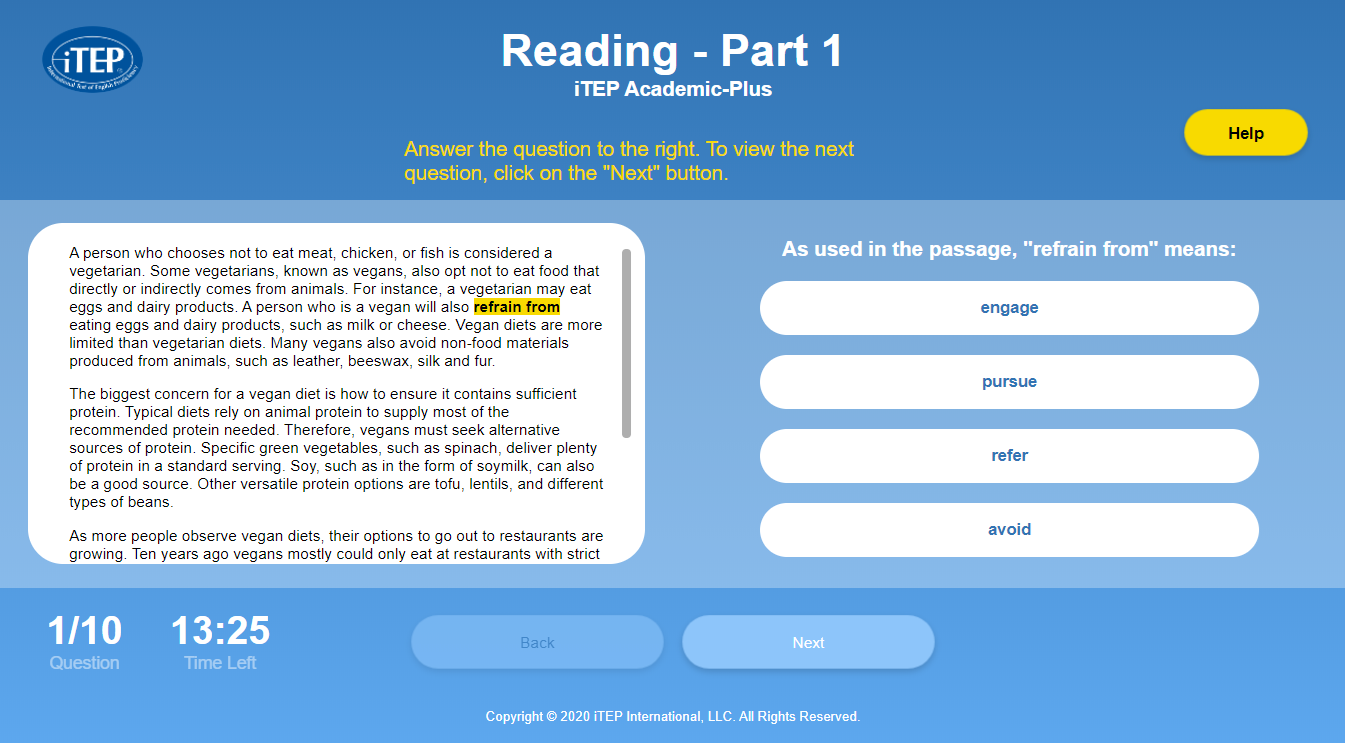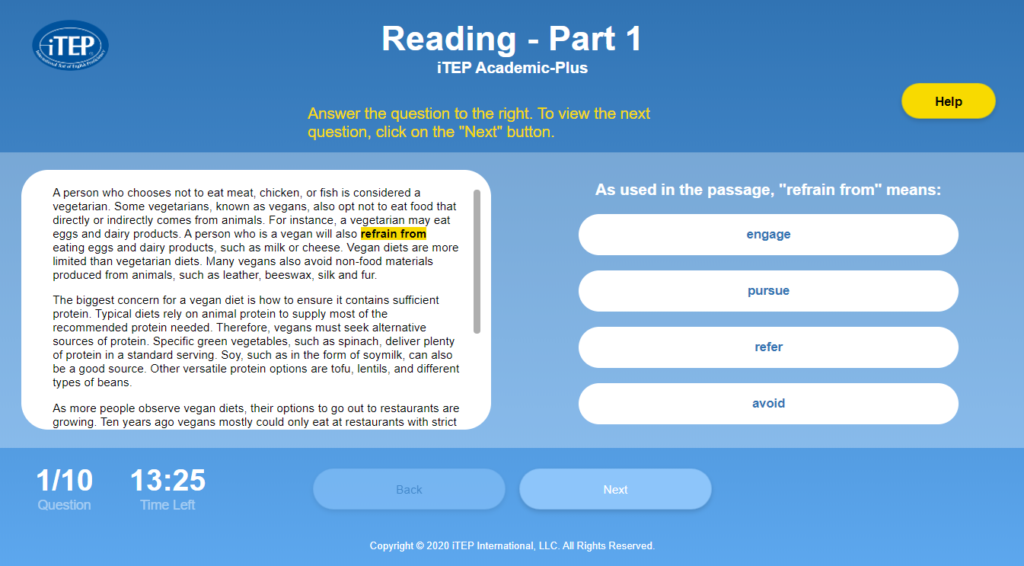 "We communicate so much through graphics and images that are universally recognized and accepted," said Brosam. "We understand how stressful taking an English language proficiency test can be, so if there are little things, we can do to help make a test taker feel comfortable and more confident, we want to do that."

The new exam design will roll out in stages with the suite of Plus exam products being the first to implement the new design. The goal is to transition all products to the "New Look, New Feel" by the end of the year.

"The initial feedback we've received has been incredibly positive," said Brosam. "We feel confident that these changes will be one more way iTEP distinguishes itself from any other English Proficiency test on the market."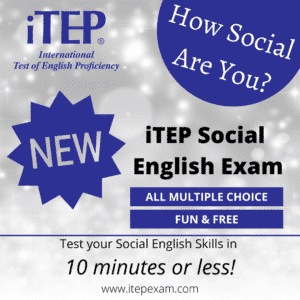 The Social English Exam measures your ability to understand and respond using English in different social situations with native English speakers.
Read More »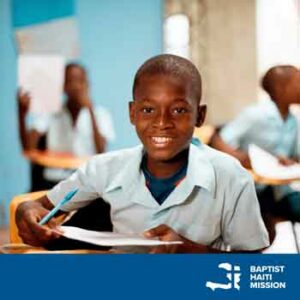 iTEP's admissions testing helps Liberty University and the Baptist Haiti Mission (BHM) train and educate the youth of Haiti.
Read More »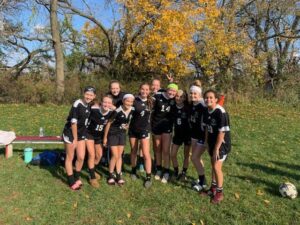 What started out as a once-in-a-lifetime exchange opportunity has become a family tradition with the Avila Bartholo using iTEP testing
Read More »
The International Test of English Proficiency (iTEP) was introduced in 2008 to modernize English language assessment with on-demand scheduling, 24 hour grading, and accurate test data. iTEP provides a convenient and cost-effective testing option delivered in a highly secure environment.

iTEP offers a variety of assessment tools for university and secondary school admissions and ESL placement, hiring and employee assessment (including tests for specific industries), and iTEP Conversation, which assesses conversation skills in 30 minutes. All iTEP exams are graded by certified and trained native English speakers.

More than 800 colleges, universities, middle/high schools, and boarding schools in the USA and Canada accept iTEP results for admissions. Applicants can take iTEP at more than 500 test centers in 61 countries. iTEP International is headquartered in Los Angeles, California.