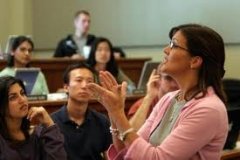 Via Lingua International, one of the leading intensive English programs in Italy, now accepts iTEP as proof of English proficiency from non-native English speaking teachers seeking to enter their TEFL program.
Applicants wishing to obtain TELF certification from the Florence-based school may now submit an iTEP score with their application. This marks the first time iTEP has been used to certify teachers.
More than 400 US institutions currently use iTEP exams are currently used to assess student applicants.
The tests are no less suited to evaluating teachers. The detailed iTEP score report reflects a test-taker's strengths and weaknesses, even at a very high level of English proficiency.
"Our tests are very versatile, and we're happy to add non-native English speaking teacher assessment to the long list applications for iTEP exams in education, business, and government," says iTEP Executive Director Michael Salenko.