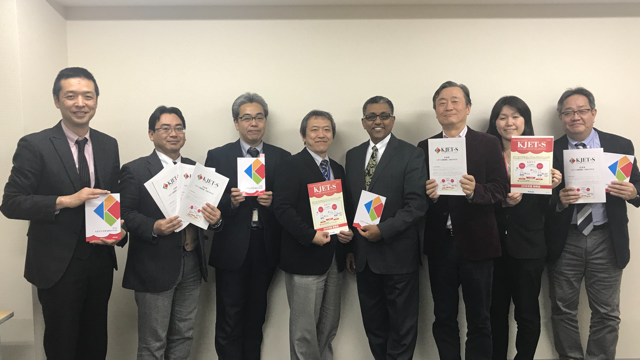 In response to a national push to increase spoken English proficiency among Japanese students, Kawai Juku, one of the largest education companies in the country, will offer a new English assessment test entirely adapted from iTEP to its network of more than 3 million high school students. The partnership constitutes the most wide scale assessment of English speaking skills of students ever undertaken in Japan.
The new test, called KJET-S, uses content exclusively from iTEP Conversation, a 30-minute test designed to have a friendly tone in order to get an accurate picture of a test-taker's spoken English ability in day-to-day conversation. Students will use the test to measure their spoken English progress and identify skill areas that need improvement in preparation for Japan's new conversational English requirement for college admissions going into effect in 2020.
Kawai Juku expects to administer some 220,000 KJET-S tests over the next 4-5 years. "The strength of the iTEP suite of English assessment tools is their adaptability," says Hiroshi Kagawa, Chair of IBC Publishing. "We can modify iTEP exams to meet market demands and client needs. This unique aspect of iTEP's offerings is what enabled the creation of Kawai's new KJET-S test, which fills a major need in the prep school market."
"iTEP Conversation was created to enable institutions use English assessment tools in new and exciting ways," says iTEP President Jemal Idris. "We are extremely excited to be playing such a key role in the national initiative to improve spoken English skills."
"Spoken English is no longer just a good skill to have. It is now a requirement for incoming university students in Japan," says Mr. Wada, Chair of Kawai Publishing. "Yet, this skill has not been widely measured, largely because doing so was logistically difficult and cost prohibitive. The introduction of KJET changes the game."
About Kawai Juku
Established in 1933, Kawai Juku is one of the leading private-sector educational organizations in Japan. The company owns 413 prep schools throughout Japan where more than 110,000 students prepare for college entrance exams. In addition, Kawai Juku is a provider of educational materials and test for public high schools and prep schools in Japan with a total accumulated reach of more than 3 million students per a year.