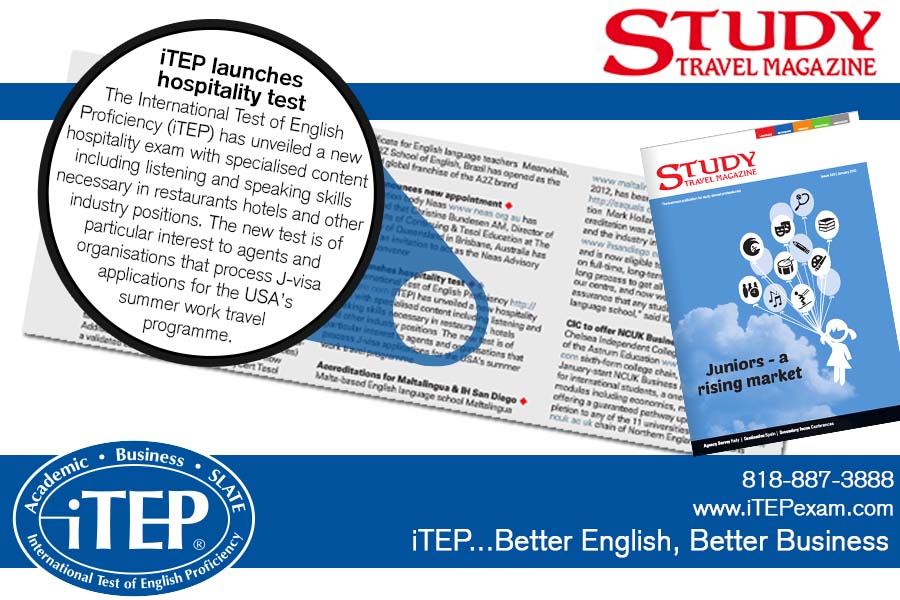 The January 2015 issue of Study Travel Magazine features a news item about our new iTEP Hospitality test:
iTEP launches hospitality test
The International Test of English Proficiency (iTEP) has unveiled a new hospitality exam with specialised content including listening and speaking skills necessary in restaurants hotels and other industry positions. The new test is of particular interest to agents and organisations that process J-visa applications for the USA's summer work

travel 

programme. (page 9)
In developing this English proficiency test for the hospitality industry, we aimed to provide a tool that would be of use to agents working with J-visas and individuals who take advantage of the work travel program. We're very pleased that Study Travel Magazine, which serves student recruiters and educational consultants around the world has chosen to cover the launch of this new test.
See the recent coverage of the Official iTEP Preparation Guide in Study Travel Magazine 
here
.