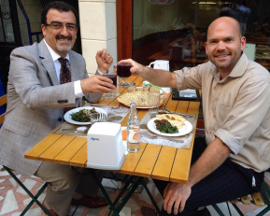 The popularity and reach of iTEP are rapidly expanding in the Middle East. iTEP Executive Director Michael Salenko traveled last month to Iraq, Turkey, and Saudi Arabia to meet with distributors, institutions and government officials.
In addition to visiting many high-level institutions in Riyadh, Michael held training sessions with iTEP Saudi Arabian distributor SOUKS HR Solutions. For this leg of the trip, he was escorted and aided by an official from the Department of Commerce.
Michael is seen to the left in Istanbul with Salih Baycan, Owner, and Director of Discover English. They discussed marketing strategies and opportunities to provide more companies and institutions with affordable English assessment.
In Iraq, Michael visited the beautiful new campus of the  American University of Iraq, Sulaimani. He also met with the Interchange Institute and several potential partners in the Kurdish region of the country.
With the increasing prominence of academics and business in this part of the world, iTEP is thrilled to have the opportunity to be the language assessment tool of choice for many organizations.