iTEP English conversation tests and Hanover announce cooperation
Academic Language Solutions and Cleversteam's Hanover provide
English testing and database solutions
(Guilford, Connecticut USA, May 15, 2020) Academic Language Solutions, distributor for the iTEP English Proficiency tests, has announced a cooperation with Hanover that allows automatic input of iTEP English test scores into a sponsor's or agent's database.
Hanover, a web-based solution that facilitates the placement of participants into employment with host businesses, has developed a specialized module that that inputs test results and links to iTEP score reports directly into a client's database. The scores are easily retrieved for placement purposes, and score reports can be accessed to share with host employers, schools or if requested by government agencies.
iTEP (International Test of English Proficiency) is the leading organization offering tests measuring conversational competency in English, online and on-demand. The exams are accepted worldwide by schools, universities, companies and organizations as proof of English language speaking skills.
Most standardized tests provide assessments of reading and listening skills, but do not cover real-world conversational capabilities. iTEP has developed tests for university and secondary schools, as well as hospitality, au pair, intern, trainee and other cultural exchange programs in English speaking countries. Complete information is available on the Academic Language Solutions website.
For more information contact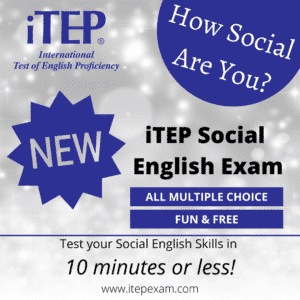 The Social English Exam measures your ability to understand and respond using English in different social situations with native English speakers.
The International Test of English Proficiency (iTEP) was introduced in 2008 to modernize English language assessment with on-demand scheduling, 24 hour grading, and accurate test data. iTEP provides a convenient and cost-effective testing option delivered in a highly secure environment.

iTEP offers a variety of assessment tools for university and secondary school admissions and ESL placement, hiring and employee assessment (including tests for specific industries), and iTEP Conversation, which assesses conversation skills in 30 minutes. All iTEP exams are graded by certified and trained native English speakers.

More than 800 colleges, universities, middle/high schools, and boarding schools in the USA and Canada accept iTEP results for admissions. Applicants can take iTEP at more than 500 test centers in 61 countries. iTEP International is headquartered in Los Angeles, California.