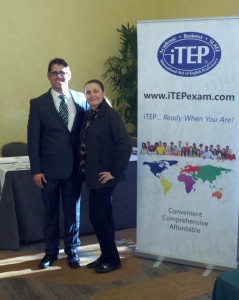 iTEP representatives, particularly Academic Director Lee Rabideau, have been hitting all sorts of conferences recently. He's been to six since October, including the  California TESOL Regional Conference at USC last week.
The week before that, iTEP exhibited at the  37th annual Community Colleges for International Development ( CCID) Conference in Atlanta. This one really stood out because community colleges serve an increasingly international student body, and more and more of these institutions are turning to the only English proficiency test with the flexibility to meet their needs.
It also stood out because Lee did an early morning a capella Elvis impression. Yes, really.
He gave a presentation on best practices in recruiting, and, since it was over breakfast, figured the group could use a little rock 'n' roll to get warmed up. Judging by the applause, it worked.
It also brought a lot of people to the booth. That, and learning how registering with iTEP is a no-cost way for community colleges to promote their international program, increase their qualified applicant pool, and make the process more convenient and affordable for their applicants. Many representatives sought out the iTEP booth and enthusiastically joined the iTEP family. They found the different versions of the test, ease of access to scores, and on-demand scheduling suits their educational environment perfectly.
Image: Lee poses with Zepur Solakian of the Center for Global Advancemnt of Community Colleges ( CGACC), who organized the breakfast presentation and was kind enough to ask iTEP to participate.