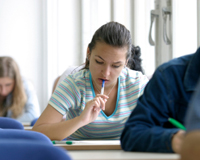 Boston Educational Services understands that even in the digital age, hard copy plays an important roll. We get that paper-based tests work best for some institutions and situations. Furthermore, we believe that paper-based tests need not be expensive or cumbersome to administer.
The paper-based version of our iTEP Academic-Core exam evaluates the same skills (reading, listening, grammar) as the Institutional TOEFL exam (TOEFL ITP), but does so at a fraction of the cost, with less administration time, and quicker delivery of results.
Traditional formats can still be innovated. Please contact BES for more information about the paper-based test of the 21st century.