From NAFSA to TABS, iTEP is on the Conference Circuit this Fall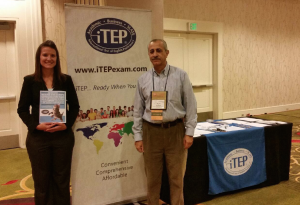 Last week, iTEP President Sharif Ossayran and Account Management Director Melissa Szarowicz exhibited at the NAFSA Bi-Regional Conference in Portland, Oregon. They were pleased to meet many of our trusted partners, as well as answer very thoughtful questions from schools considering accepting iTEP for admissions.
Representatives from Chabot College, for instance, visited our booth to report that they had just received their first iTEP score with an application. We also had the privilege of some face time with the folks from ELCI, an innovative and growing language education organization in Monmouth, Oregon.
iTEP sponsored the back page of the program at the conference (with the adorable kitten ad Melissa is holding in the picture), and will sponsor tote bags at the AIRC conference December 3-6 in Miami. Our next stop in person will be the TABS conference December 4-6 in Washington DC. We will be exhibiting and hosting a "speed session" titled "Placement and Progress via Third Party Assessment" from 3-4pm on December 5. Hope to see you there!