iTEP International has partnered with Zhejiang Liang Yi Cultural Development Company Ltd (ZL) in a major initiative to improve the availability and use of reliable English assessment in the country. Valued at $8.9 million, the agreement will bring the iTEP Academic and iTEP SLATE exams into the Chinese mainstream through ZL's relationships with Zhejiang Tsinghua Yangtze River Delta Research Institute, and English Weekly Press, a major English education media company.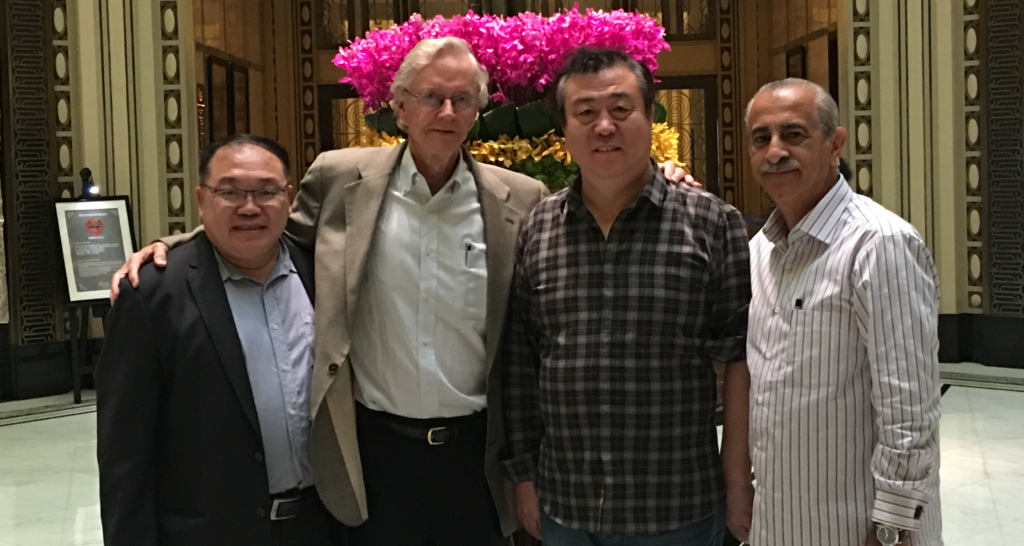 Kenny Li, Perry Akins, Shi Chuanbao, & Sahrif Ossayran
ZL is a main supplier of paperless teaching systems, touring online systems and homestay management to elementary and secondary schools in China, and will incorporate iTEP exams into its materials. "There is an increased focus in China on forming proficient English speakers, rather than merely paying lip service to English education and going through the motions of classroom instruction," says iTEP Chairman Perry Akins. "We are thrilled that this partnership will integrate coursework and assessment to help educators achieve measurable results."
English Weekly Press will leverage its targeted circulation of 16 million through 40,000 schools to promote iTEP to teachers and students. "Our publication brings trends and innovations in the education field into the spotlight," says Mr. Shi Chuanbao, Vice of Editor of the awarding winning English Weekly Press. Secretary of General of China Foreign Language and Education Research Center. "We are thrilled to bring widespread awareness to a more efficient, cost-effective, and technology enabled English test such as iTEP."
Yangtze Delta Region Institute of Tsinghua University, Zhejiang, is co-founded by Zhejiang Provincial Government and Tsinghua University. The Institute is actively involved in technology innovation services and training, and spurring growth in the tech sector in order to fulfill Tsinghua University's social service commitment to shaping the future of economic development. "We are thrilled to engage in revolutionizing the English assessment space in China through our partnership iTEP," says Dr., Wu, Yunda Vice secretary of Yangtze Delta Region Institute of Tsinghua University Zhejiang.
The partnership is the most significant to date for iTEP International which already has more than 100 test centers established in China and more than 700 around the world. "In such a large and populous country, it takes truly influential partners to make an impact, and we are honored to be part of such an elite group," says iTEP President Jemal Idris. "The People's Republic of China offers tremendous growth opportunities for the iTEP exams and we are looking forward to a successful and long term relationship with ZL."