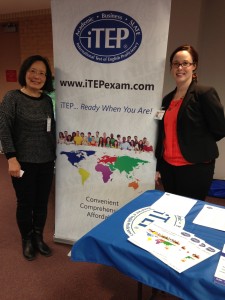 Boston Educational Services has a great history of working with faith-based schools with strong international student populations. Affordable Christian Education for Internationals ( ACEFI), for instance, is a proponent of our iTEP-SLATE exam, which is used by their campuses all over the US.
Liberty University is one of our newest iTEP partner schools. With more than 100,000 students on their campus in Lynchburg, Virginia, and online, Liberty is the largest Evangelical Christian university in the world. With students from over 80 foreign countries, Liberty also has one of the most popular  international programs in the US.
Most recently, iTEP was invited to present at the Institutional Showcase and Global Conference for Seventh Day Adventist Colleges & Universities at the Seventh Day Adventist world headquarters in Silver Spring, Maryland, on March 24, 2014. iTEP Institutional Relations Associate Kristin Golden met with college and university presidents from Pakistan, Ethiopia, Zambia, Korea, Madagascar, India, Uganda, South Africa, Botswana, Hong Kong, Taiwan, and England.  She is pictured above with Taiwan Adventist College President Alice Kuang Hui Chen.
Religion has always been a driver of international travel and cultural exchange. BES is pleased to be able to provide faith-based institutions with English language assessment tools that are convenient, affordable and comprehensive.