Dear iTEP Partners and Friends,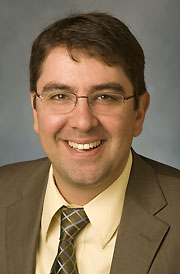 I am pleased to announce the appointment of Dan Lesho to fill the position left by the departure of Marielle Marquette.  As Executive Vice President of BES, Dan will be responsible for managing our existing English language assessment products as well as all new product development.
Most recently, Dan served for seven years as director of the Cal Poly English Language Institute (CPELI) on the campus of the California State Polytechnic University, Pomona. During his time as CPELI Director, Dan successfully guided the school to full accreditation by The Commission on English Language Accreditation (CEA) and promoted greater student mobility to Cal Poly Pomona through conditional admission and English proficiency verificationon through CPELI. Prior to joining CPELI, Dan was an adjunct professor in the Modern Languages, Literature & Culture Department at Pitzer College in Claremont. He taught public speaking, English literature and academic writing courses for international students. Dan was also an instructor in the International Fellows Program at the Drucker School of Management at Claremont Graduate University. This program prepares international MBA students for academic coursework at Claremont Graduate University.
Dan earned a master's degree in Teaching English as a Second Language from Simmons College in Boston and a bachelor's degree in history from Providence College in Rhode Island. His overseas experience includes English language instruction in Korea and Japan including Nagoya University of Foreign Studies in Nagoya, Japan.  He is presently studying for his doctorate which he expects to complete by mid 2017.
We are so very fortunate to have someone of Dan's background and experience as the newest member of our team.  His first day on the job will be Monday, August 29.
Yours truly,
Jemal Idris, President