A Neighborly Solution for Trump's Immigrant Obsession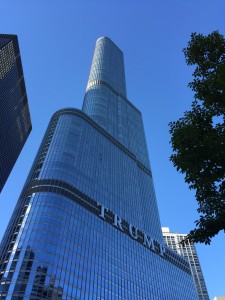 Most college and university presidents speak about wanting to internationalize their campuses. That interest has translated into recruiting international students from far way countries. However, there is a less expensive way of insuring your insulated American students can learn about other countries and cultures. Based on what I have read about Donald Trump and heard him say, I doubt that he would throw his weight behind the plan I am proposing.
All our institutions of higher learning need to do to attract more international students is look to their immediate neighborhoods. Certainly, all cities and many rural areas have in their midst recent immigrants from far off lands. Why not extend a welcome mat to those who have already come from overseas and are making their homes just down the street? In many cases, their parents are cutting our lawns, picking our fruits and vegetables, washing our cars, cleaning our homes, and performing numerous other tasks to ensure those who landed before them have a comfortable life. Let's offer their children an opporunity. All international student recruitment plans should include local immigrant recruiting.
These students are much less expensive to connect with since schools need not send representatives abroad or pay commissions to agents to reach them. So, let's roll out that red carpet, extend a hand of friendship, and recruit our international neighbors. Presentations to recent immigrants could be arranged at local houses of worship and civic centers. Institutions can let them know about scholarships, part time jobs on campus, loans, and whatever else it might take to make your institution affordable. Many of these families wrongly assume that the numerous advantages your institution of higher learning offers its students and graduates are beyond their reach.
A college or university can easily internationalize by just being down right neighborly. I would encourage every college president to call a meeting of his or her international recruiting team and challenge them to recruit 50 percent of their "international" students from the neighborhood.
By the way, we at Boston Educational Services wish to do what we can to encourage colleges to reach out to these new immigrants. Therefore, if you need an internationally recognized English assessment exam for any local immigrant applicant, we will make our exam, iTEP, available to the applicant free of charge through your school. iTEP is an English language assessment exam that covers all skills, is sold worldwide for $99, and accepted by more than 500 US colleges and universities for admissions. We are sincere about this offer and are prepared to cover all the costs of grading the exams and providing score reports—all at no charge to your institution or the student.
There is a possibility that I have misinterpreted what I have read and heard about Mr. Trump regarding his attitude toward immigrants—legal and undocumented. If I am wrong, I offer my apology and certainly welcome any participation on his part to help our new immigrant neighbors pursue a path of education in one of our many wonderful institutions of higher learning.
Comment on this article on LinkedIn.